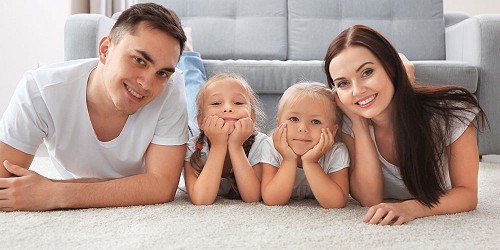 ---
Serenity Sustain
Dense, supportive carpet underlay for the heaviest traffic areas of the home.
---
Serenity Sustain
Halls, Stairs and doorways. Parties, kids and heavy furniture. It's a tough life for carpets, which is why you need a Carpet Support System engineered to keep them looking new for years.
Ask your carpet retailer to give you a sample of ordinary underlay - a popular brand that you may have heard of, perhaps. Pinch it between your finger and thumb. You'll be able to compress it easily - some compress almost totally.
Now try this with a sample of Serenity Sustain, you'll see that it wont squash between your finger and thumb anything like as much. It's this density and resilience that makes all the difference - really supporting the fibres of your carpet so they don't flatten, and your floor looks fresh and new for years.
The pinch test is designed to seperate out ordinary underlays from a true Carpet Support System.
If you have trouble with sound transmission through your floor, perhaps from upstairs rooms or, if you live in an apartment, from your flat to the one below, you'll find that Serenity can help with that problem too. It's our density again - a generous thickness of rubber crumb that helps reduce sound and stop it from getting through.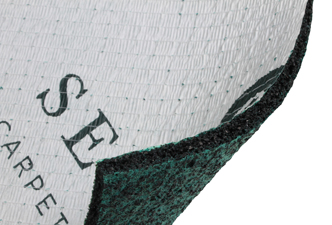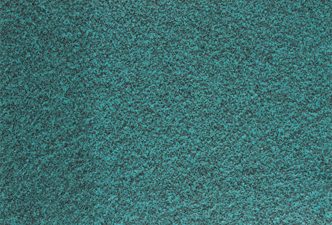 Carpets look and feel as good as new for years
No more worn and flattened areas
Furniture marks recover quickly
Sustainably made from reclaimed car tyres
Extra thickness for the ultimate in underfoot comfort
Excellent sound insulation properties
REQUEST SAMPLE OF SERENITY SUSTAIN
Fields indicated with * are required.
---
Downloadable Resources
REQUEST SAMPLE OF SERENITY SUSTAIN
Fields indicated with * are required.
---
COMMERCIAL FLOORING
RESIDENTIAL FLOORING
ACOUSTIC FLOORING